Background
Rural development is a process that seeks social change and sustainable economic development for the rural community´s ongoing progress. It aims to increase food production in a sustainable way and enhance food security. This will involve education initiatives, utilization of economic incentives and the development of appropriate and new technologies, thus ensuring stable supplies of nutritionally adequate food, access to those supplies by vulnerable groups, and production for markets; employment and income generation to alleviate poverty; and natural resource management and environmental protection. The ultimate goal is to improve their life quality and to preserve the environment. There are three basic needs in rural development for a sustainable future. The first one is improving millions of people´s welfare that live in the country (nearly half of the world population), thus reducing the rural-urban gap, stamping out poverty and preventing city migration. The second one is protecting and preserving natural, landscape and cultural resources. Last but not least is ensuring universal access to food with a sustainable farming production.
The 2013 World Monitoring Report of the Millennium Development Goals (MDGs) confirmed that the rural-urban gap still existed in the whole world. Illiteracy, lack of health care or poverty are some of the common problems affecting the country. Despite all these, international aid for rural areas has decreased two thirds in the past decades. Unsustainable behaviors and practices in the rural area have now become widespread. FAO (Food and Agriculture Organisation) describes a series of challenges in the Sustainable Agriculture and Rural Development (SARD) process, namely: ensuring a sustainable diet for present and future generations; offering steady and sustainable jobs; reducing the vulnerability of the farming sector; maintaining or increasing the productive and regenerative capacity of natural resources.. Thus, it is important to appreciate the role of the rural world in the preservation of nature, create a local consumption culture, facilitate the formative and management resources for a sustainable economy, make urban societies aware of the importance of rural areas, and so on. In making central the role of rurality in sustainable development, it is important to consider the notion of innovation as achieving the goals laid out by FAO is not an easy task and requires new, innovative ways.
Innovation is central to the economic growth and development of any nation. It could greatly help to improve the life of rural poor people by proving new opportunities for development. In fact, the most of rural poor people are landless and therefore can not depend fully on the benefits of agricultural activities. Innovation is required to look at the new development activities and functions that create more employment opportunities in and outside agriculture in the rural sector. In the rural context, innovation approach provides new ways to solve the problems of rural people and to create new opportunities for rural development. In order to encourage rural innovation, a growing emphasis is being placed on the multidimensional approach to sustainable rural development, seeking to realize synergies from the links between development factors such as energy, health, education, water, food, gender, and economic growth. A paradigm shift is needed for a better understanding of rural innovation based on the recognition that rural people and communities are actually creative and they have been innovative over the time. Instead of merely trying to learn them how to innovate, scientists also must try to understand the various innovations they put in place in order to face multi-faceted rural development challenges. Scientists of multidiscipline background also have to work hand in hand with each other, as well as with rural communities, to initiate and develop innovative ways to make rural development sustainable for a long time. It could only be undertaken by knowledge sharing between many disciplines, ranging from management studies, social sciences, life sciences, marine science, and animal science to engineering. There is no better sphere to make the collaboration between scientists with a wide range of knowledge and skills works well than a conference. It is in this principle we will be hosting an international conference on multidiscipline approach for sustainable rural development. This year, the theme of this conference is "Multidisciplinary Research for Rural Innovation."
Purpose
The purposes of the conference are:
to provide a forum for scientific discussion, professional networking, research collaboration, education, and dissemination of scientific research, innovation and industrial products.
to increase the quality of research and development in the multidisciplinary approach for sustainable rural development.
to encourage the local and regional young scientists to attend and present their works at the international level.
Aim and Scope
The conference divides into three symposia below:
1. Material Science and Engineering (MSE)
The topics including electrical, mechanical, industrial, geophysics, mining, chemistry, physics, civil and architecture, and computer and information technology.
2. Arts and Humanities (AH)
The topics including political sciences, sociology, anthropology, language, communication, international relation, public policy, law and economics.
3. Life and Applied Science (LAS)
The topics including agriculture, food science and technology, animal science, marine & fisheries, soil and land resources, medical and health sciences.
Keynote Speakers
Assoc. Prof. Hitoshi Habe,

Kindai University, Japan

Nguyen Huu Tho, PhD
Thai Nguyen University Vietnam

 Prof. Choi Jae Suk
Silla University, South Korea

Assoc. Prof. Dr. Siti Aznor Hj. Ahmad
Universiti Utara Malaysia, Malaysia

Dr. Minako Sakai, School of Humanities and Social Sciences, University of New South Wales Australia

Dr. Jesus C. Fernandez Deputy Director SEAMEO BIOTROP
Plenary Speakers

Prof. Dr. Mohd Marsin Sanagi,
Universiti Teknologi Malaysia

Dr. Yusril Yusuf
Universitas Gadjah Mada, Indonesia
Prof. Rifda Naufalin
Universitas Jenderal Soedirman, Indonesia

Prof. Arief Anshory Yusuf
Padjadjaran University
Date and Venue
November 14-15, 2018
The venue of the conference is Java Heritage Hotel, Jl. Dr. Angka No.71, Karangkobar, Sokanegara, Purwokerto Tim., Kabupaten Banyumas, Jawa Tengah 53115. The hotel is about 2 km to Jenderal Soedirman University. This location is in the downtown of Purwokerto, Central Java Province of Indonesia. Several popular tourist destinations also available such as Baturraden, Owabong, and Purbayasa.
Purwokerto is located near the base of Mount Slamet, the second-tallest volcano in Central Java. The city is bisected by the Kali Kranji (Kranji River). It lies near two major east-west roads, Jalan Sudirman and Jalan Gatot Subroto. Its geographic location is 7°26′S 109°14′E.
Important Dates
September 15, 2018
Abstract Submission and Registration Ends
September 30, 2018
Extended  Abstract Submission and Registration Ends
September 22, 2018
Abstract acceptance announcement
October 7, 2018
Extended  Abstract acceptance announcement
October 13, 2018
Early bird payment ends
November 7, 2018
Late payment ends
November 7, 2018
Full paper submission ends
November 14-15, 2018
Conference day
Call for Papers
Poster and oral presentation guidelines
Oral presentations
Oral presentations for maximum 15 minutes (including 3 minutes for Q&A). There will be a timer on the podium as a reminder of where you are in the presentation. Please be advised that presentations exceeding the limit will be cut off by the moderators in the interest of time.
Presenters do not have to bring their own computer. There will be a Windows based laptop computer that will be available in the session room. Your presentations (Microsoft Powerpoint only) will be accepted in CDROM or USB Flashdrive form. Computers will be provided to upload presentations and test them in the meeting room. There will also be a technician to help with any technical issues. Participants scheduled for the morning should have their presentations ready the day before, while those scheduled for the afternoon should have theirs ready by lunch.
Poster presentations
In planning a poster presentation it is useful to keep in mind the advantages of a poster over oral presentation. Posters are available for viewing for a full day. Authors and interested viewers have more time for discussion. More posters can be presented in the same time and space than oral presentations reducing the number of simultaneous sessions. There is no first or last presentation on the program. As a general concept, keep in mind that the information should stimulate discussion, not give a long presentation. Planning and experience will make your poster presentation clear, effective and rewarding.
Authors will be asked to be available for discussion during the poster sessions.
All posters will be displayed during the conference day and should be mounted by the presenter at 08:00 am. The poster should be made in X-banner in 160 cm (h) x 60 cm (w) .
At registration, you will be provided with instructions on your poster location, as well as a number. The number will be on the poster board assigned to your poster.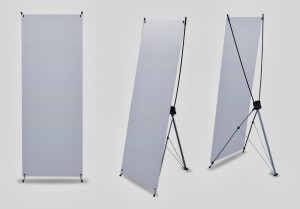 X-banner poster
Abstract and Paper Submission
Click here for Submission 
Registration Fee and Payment
| | | | |
| --- | --- | --- | --- |
| Participant | | Early | Normal |
|   | | Before Oct 14, 2018 | After Oct 14, 2018 |
| | Non Universitas Jenderal Soedirman | IDR 750.000 | IDR 1.000.000 |
| | Universitas Jenderal Soedirman | IDR 500.000 | IDR 750.000 |
| Presenter | | | |
| | Non Universitas Jenderal Soedirman | IDR 2.250.000 | IDR 2.500.000 |
| | Universitas Jenderal Soedirman | IDR 1. 500.000 | IDR 1. 750.000 |
| | Undergraduate Student | IDR 1. 500.000 | IDR 1. 750.000 |
Additional papers  (presenter submit more than one paper): IDR 1.000.000 per title
Accommodation
There are several hotels nearby the Conference Venue (Java Heritage Hotel) such as Aston Imperium Hotel (700 m), Wisata Niaga Hotel (1.5 km), Meotel Hotel (1.8 km), and Dominic Hotel Purwokerto (2 km)
Visa Information
Detail of Visa information and requirement can be found here
Advisory Board
Prof. Kazuhiro Fukui, University of Tsukuba, Japan
Prof. Arief Anshory Yusuf, Padjadjaran University
Assoc. Prof. Dr. Gregory Lawrence Acciaioli, University of Western Australia
Assoc. Prof. Dr. Siti Aznor Hj. Ahmad, Universiti Utara Malaysia, Malaysia
Dr. Duong Van Thao, Thai Nguyen University Vietnam
Prof. Choi Jae Suk, Silla University, South Korea
Prof. Dr. Mohd Marsin Sanagi, Universiti Teknologi Malaysia
Dr. Jas Raj Subba, Royal University of Bhutan, Bhutan
Assoc. Prof. Dr. Md. Aminul Haque, University of Dhaka, Bangladesh
Committee
Contact
Website: http://icma.lppm.unsoed.ac.id/
Email: icmasure.unsoed@gmail.com